The best cat toys to tire out your kitten must be toys that encourage curiosity and exercise. Find here the best toys to wear out your cat, some options will be interactive and excellent toys to bond whit your kitty, while others are automatic toys and cat toys to play alone while you are at work!
There is an option for everyone, and these are divided into 2 main categories; the best toys to play alone and the best toys to interact with your kitten.
Disclaimer
The information on catsandkittensworld.com is purely informational and should not be considered medical advice. If your pet has any medical issues please consult a professional. Thank you.
Summary
Best Cat Toys To Play Alone
Best cat Toys For Interactive Play
Related articles:
9 Best Cat Toys To Tire Them Out List
Cat Toys To Play Alone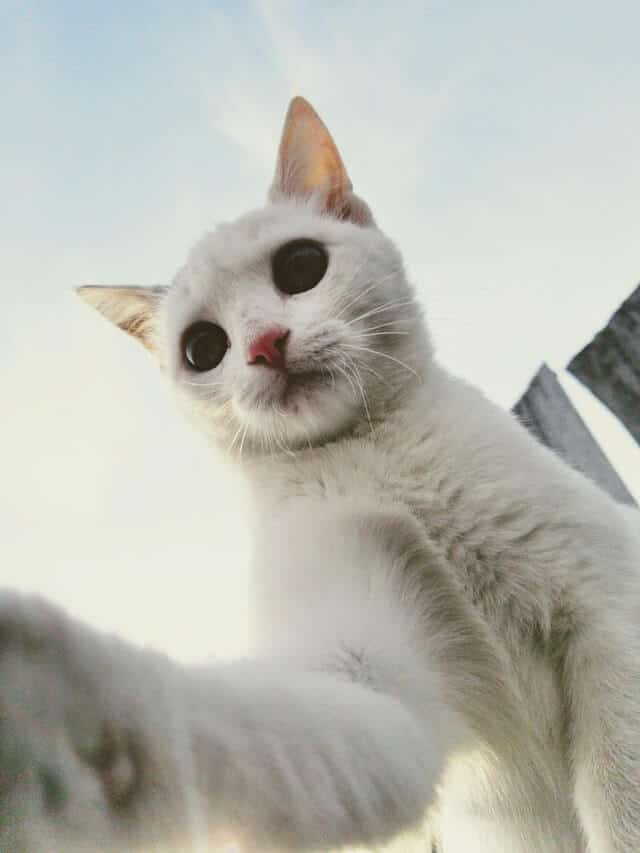 Interactive cat toys are toys that help stimulate your kitten's brain, get exercise, and bond with them. Let's see here the best options in the market according to thousands of positive reviews!
If you have a hyper kitten or active cat that loves to hunt, run and chase, this smart mouse toy is ideal to wear out your feline beast. It was built with smart technology that detects and avoids obstacles, so it will be able to move throughout the house, keeping your kitty entertained for hours.
Can A Cat Eat A Mouse Toy?
Some kittens or adult cats can swallow a piece or an entire mouse toy, this is dangerous which is why we recommend checking if the mouse toy size is big enough to reduce the probability of our cat swallowing it
| | |
| --- | --- |
| Pros | Cons |
| You can conveniently recharge it via USB | Doesn't squeak |
| Encourages self-play | |
| Great for mental stimulation and avoiding boredom | |
Features:
Price range: $$
Brand: Hepper
Materials: Plush, feather
USB charging
Real feather for extra stimulation
Similar popular toys
What if you have multiple kittens? Then we recommend the cat ball track toy. This toy comes with different balls that instantly grab your kitten's attention, it is ideal for mental stimulation and keeping your kitten entertained for hours trying to get the ball.
It is very durable, so it can stand rough play and lots of play sessions. And as balls are brightly colored it is easy to see even for cats with eye disabilities.
Note: These types of toys also work for single kittens! You can see here this funny video of cats playing with the cat ball tower.
| | |
| --- | --- |
| Pros | Cons |
| Easy to clean | Not suitable for cats with plastic allergy |
| Easy to assemble | |
| High Durability | |
| Lightweight, easy to move around | |
Features:
Price range: $$
Brand: Hepper
Materials: Plastic 
3-level design with 3 balls included
Separates into 2 pieces for easy cleaning
Similar popular toys
This is an excellent cat toy to work out! It s designed for your kitty to get curious and swat it, whit that bright yellow ball attached at the top ready to be knocked, slapped, and hit! It will work, whether it's upright or on its side, plus it comes with a slot with a catnip ball included which encourages your kitty or cat to keep coming back for more!
| | |
| --- | --- |
| Pros | Cons |
| Ideal for self-play | If the ball attached to the toy breaks it will be hard to replace |
| Great value for money | |
| Good for exercise relieves stress and anxiety | |
| Comes with a free catnip ball | |
Features:
Price range: $$
Brand: Hepper
Contains high-content catnip ball
Colors: pink, yellow, black, blue, green
Can be used upright or horizontally
Material: ABS plastic
Similar popular toys
Ready….. Go!!! Do you have a Bengal cat? or a really hyper kitten, then look no further, this highly rated collapsible cat tunnel is a great cat toy to keep them busy! Ideal to keep your feline occupied for hours, get exercised, and the best thing? It's collapsible you can just grab it and conveniently move it or store it whenever you need to!
This is a toy that works both for self-play and interactive games with your kitten. You can chase them and play hide and seek, play with the cat dancer or some cat toy wand and get your cat inside the tunnel.
If you have an active cat, such as a Bengal kitten, we recommend looking at our article Are Cat Treadmills Worth It? And 3 Alternatives You Must Know
| | |
| --- | --- |
| Pros | Cons |
| Great value for money | Not recommended for cats that easily get startled by movement |
| Easy to assemble | |
| Easy to fold | |
| Easy to clean | |
| high durability | |
Features:
Brand: Frisco
Material: Soft Suede fabric
1 Peep Hole that allows cats to peek outside
1 Dangling Ball that encourages cats to play
Popular similar toys
Interactive Cat Toys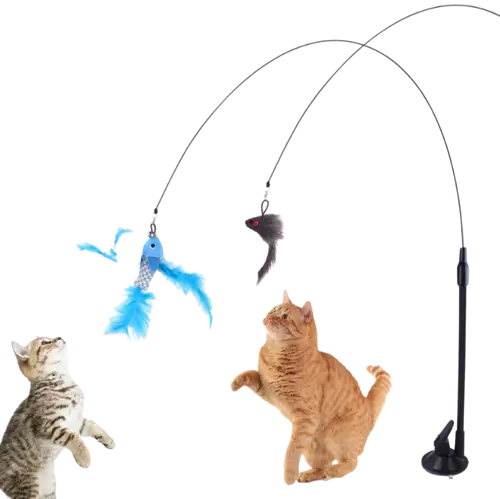 | | |
| --- | --- |
| Pros | Cons |
| Affordable | It won't swirl around automatically |
| Has different styles for your kitty's taste: Feather, Fish, Mouse, and Tail | It works for play alone time but needs supervision |
| Versatile | |
This fun cat dancer toy is an automatic alternative to the popular cat dancer toy! It is incredibly versatile, you can remove the wand from its base any time, in case you want to play with your cat, or reattach it whenever you are tired and need to rest.
Cate safe play tip: It is advisable not to leave your kitten alone with feather toys as kittens could eat the plastic feathers so it is always good to supervise your kitten while playing with feather toys.
Additionally, it has a suction cup to conveniently place this toy in your window, door, floor, or ceiling, and you can order different styles, like mouse or feather, this way if your kitty gets bored you can change the toy position and style after some play sessions!
Features:
Price range: $-$$
Brand: Hepper
Suction cup
Detachable
Comes with a Replaceable toy head 
4 styles to choose from
Materials: steel wire, steel rod, plastic, feather
In addition, the brand Hepper goes far and beyond customer service and delivers a FREE shipping service and a free two years warranty extension!
Popular Similar Alternatives:
Ok, let's say you loved the Cat Dancer Toy from hepper, but your kitty is a hunter, she always chases for something, and you would like an option that swirls around automatically, if that's your case we recommend the Butterfly Cat Toy!
This cat toy for hunters comes with an electronic design that encourages your kitty to jump, and chase, ideal for exercise. Also, it is very lightweight so you can move the toy to encourage your kitten's curiosity and avoid boredom.
| | |
| --- | --- |
| Pros | Cons |
| Very affordable | Requires one AAA battery (not included) |
| Lightweight, you can move to different places | |
| Ideal toy for cats that like hunting | |
Features:
Price range: $
Brand: Hepper
Materials: Plastic and steel wire
Requires one AAA battery
Similar popular toys:
7. Cat Dancer From Cat Dancer Brand
| | |
| --- | --- |
| Pros | Cons |
| Super cheap! | It is advisable better to buy at least 5-10 in case it breaks |
| Vety enganging and fun to play | Not suited for alone play time, needs to be held. |
| Cats seem to love the cardboard smell | |
Cat dancer is an interactive cat toy that even the pickiest cat will love. It is stupidly cheap but incredibly effective.
Why do cats love Cat Dancer so much?
Cats love it because it seems like a bug, encouraging cats to hunt, plus the smell of the cardboard is extremely pleasant for the cats, and the fact that it doesn't stand still drives them crazy!
Features:
Price Range: $
Materials: Made of spring steel wire with rolled cardboard attached
Brand: Cat Dancer
8. Alternative to Cat Dancer – Cat Dancer Cat Charmer
| | |
| --- | --- |
| Pros | Cons |
| Inexpensive cat toy | Not suitable to be a chew toy, only to swing and catch |
| Flexible fabric cats love | |
| The fabric is safe for kittens | |
Cat Charmer is from the Cat Dancer Brand, however, in this version you get a lightweight and aerodynamic fabric that lets you comfortably sit on your couch, flick it under the sofa twirl and whirl this toy while your kitten gets exercise trying to catch it!
Price Range: $
Materials: Durable and flexible polycarbonate wand and soft, colorful fabric
Brand: Cat Dancer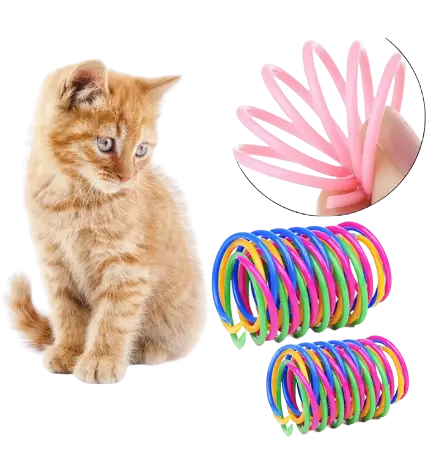 Does your kitten love to chew on and chase milk rings? If that is the case the Cat Spring Toy is the best toy to tire out your kitten! It can work both for self-play time or interactive playtime.
These spring toys are soft, colorful, and tough. It is a toy made for durability, its erratic movements will immediately catch your cat's attention and start the hunting and chasing game, it is one of the simplest toys on the list, but also one of the most liked by cats!
| | |
| --- | --- |
| Pros | Cons |
| Very affordable toy | With spring toys always check the corners, these are safe but always check |
| High durability | |
| Encourages self-play time | |
Price Range: $
Materials: Plastic
Brand: Hepper
20 springs included
Mixed variety of colors
Similar toys: